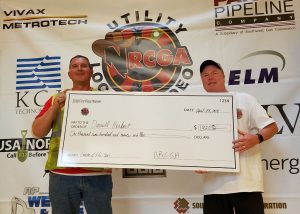 On Saturday, April 28, Darrell Herbert, a utility line locator with ELM Utility Services, won the title of Locator of the Year at the 2nd Annual NRCGA Utility Locate Rodeo, held on the UNLV campus in Las Vegas. As Nevada's top locator, Herbert took home a champion belt buckle, $1920 in cash, and a free trip to compete in the International Utility Locate Rodeo later in the year.
Thirty-five line locators from across Nevada registered to compete in the 2nd annual NRCGA rodeo in three divisions: gas, electric and telecommunications. The University of Nevada, Las Vegas, graciously donated campus lawn space for the competition to take place. Each division competition area consisted of two "wheels," with each competitor using his locating know-how to most accurately locate an underground gas, electric or telecommunication utility buried underneath each wheel. The competitors were given 12 minutes to find the buried utility, measure its location in proximity to wheel spokes, and report those measurement to scorekeepers.
Herbert won the electric division; Josh Albitre with USIC took the telecommunication division; and Lelan Merel with NPL Construction Co. took the gas division. Herbert, Albitre and Merel each received $960 as the top locator for their respective divisions.
Along with the cash prize, Herbert, Albitre and Merel went on to compete in the Jackpot Locate for the title of top locator in Nevada. With only three minutes to complete the locate, Herbert received the top score and ultimately won the entire competition.
Money paid out to division winners and the Jackpot Locate winner was provided by rodeo sponsors: USA North 811, USIC, RP Weddell & Sons, Paiute Pipeline, Southwest Gas Corporation, ELM Utility Services, Advanced Infrastructure Technologies, NPL, Byrd Underground, Vivax Metrotech, and NV energy. Each company contributed $400.
In addition to providing cash prizes for division and Jackpot Locate winners, sponsors also provided door prizes to gift during the rodeo award ceremony at the end of the day. Tension in the room was palpable as locators waited to hear their numbers drawn for smart TVs, laptops, tablets, WiFi speakers, and many more fabulous gifts!
See you at the 3rd Annual Utility Locate Rodeo in the spring of 2019!