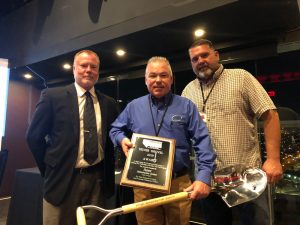 The NRCGA's top excavator award, the Silver Shovel, was presented to Future Infrastructure Services at the NRCGA's Annual Excavator Appreciation Dinner on Nov. 7 at the Eastside Cannery Hotel & Casino in Las Vegas. Each year the NRCGA presents the Silver Shovel award at the annual dinner to a Southern Nevada excavator who has had no at-fault damages during the 12 months between August of the current year to August of the previous year.
All eligible excavators that meet the no at-fault damages criteria are invited to participate in an 8-question, in-person interview with the NRCGA's Board of Directors. The Board of Directors score the excavator's response. The excavator with the highest score is kept under wraps until the night of the annual dinner.
Winning the Silver Shovel comes with perks. In addition to a life-size silver shovel to display in the excavator's office, the NRCGA will also sponsor travel for one Future Infrastructure Services representative to attend the Common Ground Alliance's Annual Conference in March 2020 in Palm Springs.
The CGA's 2020 conference will include a presentation by NRCGA Vice-Chair Dennis Bott on the annual Excavator Appreciation Dinner. It's a conference not to be missed by anyone in the excavation business!
About Future Infrastructure Services:
Future Infrastructure Services is an industry-leading provider of telecommunications, energy, and intelligent transportation services. Founded in Mesquite, Tex., in 1999, Future Infrastructure Services has diligently worked to provide the Southwestern United States with the highest quality construction, delivered in a professional manner.
Our Southwest Division, with offices in Las Vegas and Phoenix, has provided horizontal directional drilling and open cut services for the installation of telecommunications, water, sewer, electrical, and gas facilities in some of the most densely congested utility corridors in the country.
We pride ourselves in providing a safe environment for our employees, which leads to an efficient job for our customers. Our forward thinking safety philosophy enables us to grow to meet our customers' needs while maintaining a safe working environment. Future Infrastructure Services believes that the success of our projects, customers, and company depends on the success of our safety program.
We strive to make Future Infrastructure Services a place where our employees excel. We are passionate about our people growing with the company and we provide them the tools and training to further their success.
Our philosophy is simple: The key to success in our business is customer satisfaction. Our diverse experience, professional project delivery, and commitment to customer service have solidified our reputation and allow us to remain the first choice for utility construction. We strive to make working for, and with, Future Infrastructure Services an exceptional experience.