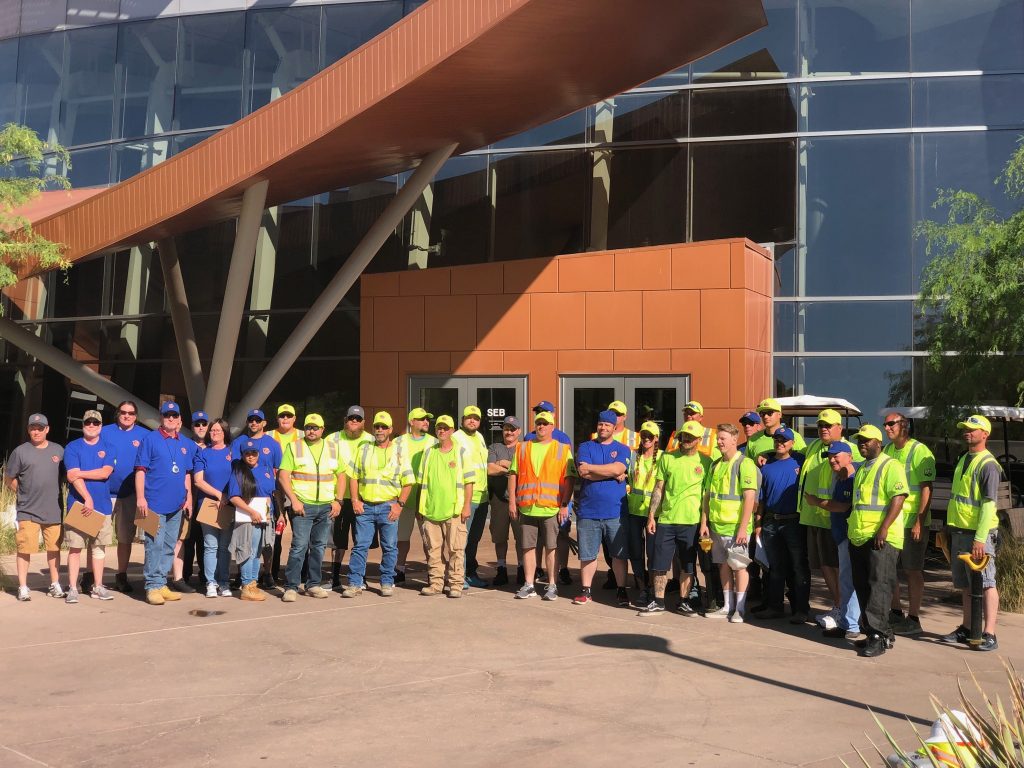 Kevin Nutt, a locator with Western States Contracting, is Nevada's top utility locator after winning the NRCGA's 3rd Annual Utility Locate Rodeo on Saturday, April 27.
Kevin competed for the first time in this year's Rodeo, though he's known of it for the past two years. "It was stressful, but great," Kevin said of the competition.  "I had a lot of fun."
Kevin not only won the overall tournament; he also won the power and communication divisions. Kevin took home prize money for both divisions, as well as the cash prize for winning the Jackpot Locate.

New this year, Rodeo participants competed in locating in all three divisions – gas, electric and communications – at different competition sites on the University of Nevada, Las Vegas campus. During the previous two years, competitors competed in the one division of their choosing.
Division winners are determined based on a performing a locating skill test within a 12-minute timeframe. The locator with the best score within each division goes on to compete in the Jackpot Locate, which entails performing locates within a 3-minute timeframe.
As in previous years, competitors in this year's Rodeo selected their division of preference, which for Kevin was power. And also as in previous years, the winner of each division went on to compete in the Jackpot Locate. With Kevin taking the top spot in both the power and communication divisions, he ultimately represented the power division in the Jackpot Locate. The 2nd place winner in the communication division was Robert Atencio, a locator with ELM, who also took first place in the gas division. Since Kevin and Robert were already guaranteed spots in the Jackpot Locate competition, the 3rd spot in the Jackpot Locate went to Tom Fava III, also a locator with ELM, who placed 3rd in the communication division.
In addition to prize money, Kevin also receives NRCGA-sponsored travel to Springfield, Missouri, to participate in the 2019 International Utility Locate Rodeo in December. According to Kevin, he plans to compete in the NRCGA's 2020 4th annual Rodeo. "Hard work pays off," Kevin said.
Also new this year, the NRCGA implemented a cornhole competition at each division competition site. Competitors, spectators and Rodeo volunteers were invited to compete. The top two scorers overall went on to compete for the bragging rights of being named Cornhole Champion – and also the right to pick any prize from among the door prizes provided by rodeo sponsors. Jeremy Crawford, a locator with Kern River Gas Transmission, is Cornhole Champion and he chose a 52" flat screen TV.
Without our sponsors, the rodeo would not be possible. Sponsors not only provide the cash prizes won by division and Jackpot Locate winners, but they provide the great door prizes (TVs, smart watches, tools, etc.) raffled during the award ceremony as the close of the Rodeo. A million thanks to all the companies listed below!